How to replace a rear parking sensor on an E60 SE model. A Sport model will be very similar but will/may have slightly different methods of fixing the bumper to the car.

Tools you will need

TXStar T30 bit

8 mm socket with 1/4" ratchet

Wide flat blade screwdriver

Small screwdriver.

A faulty parking sensor can be identified by switching on the system and placing your ear next to each sensor in turn to listen for a clicking noise. The one that doesn't click is faulty. To replace the sensor you need to take the bumper off.

The problem
Remove the two inner wing trim panels from the boot, twist the black screw heads thru 90 deg and they pop out. You may need a big flat screwdriver to help ease out the trim panels. This exposes the two TXStar bolts on each side. Undo and remove these bolts. The outer bolt is to the left of the head of my ratchet.
Each side of the bumper is fixed to the rear wheel arch liner with 4 small 8mm screws. There are three screws lower down and one near the top of the bumper.
Lower screws
Top screw location
There are also expanding rivets to be removed on the underside of the sode of the bumper just behind each rear wheel. I had previously had to drill out these rivets when I had the bumper off to fit my towbar and I never replaced them.
Lower expanding rivet location (offside)
The bumper is also clipped in to a black plastic guide at the bottom in the centre, you may need to prise out the clips with a wide screwdriver.
Lower rear guide clips.
Gently pull each side of the bumper out of its guides from the wheel arches and then lift off from the rear guides, try not to let it fall! The parking sensor wiring loom is attached at the offside rear corner. There is no need to disconnect the loom from the car just to replace a sensor as there is enough slack in the cable to get in to un plug the sensor.
Wiring loom
Rear guides and bumper bar which in my case is fixed over my towbar
Rear nearside side support brackets. The expanding rivet is located at the bottom of this support.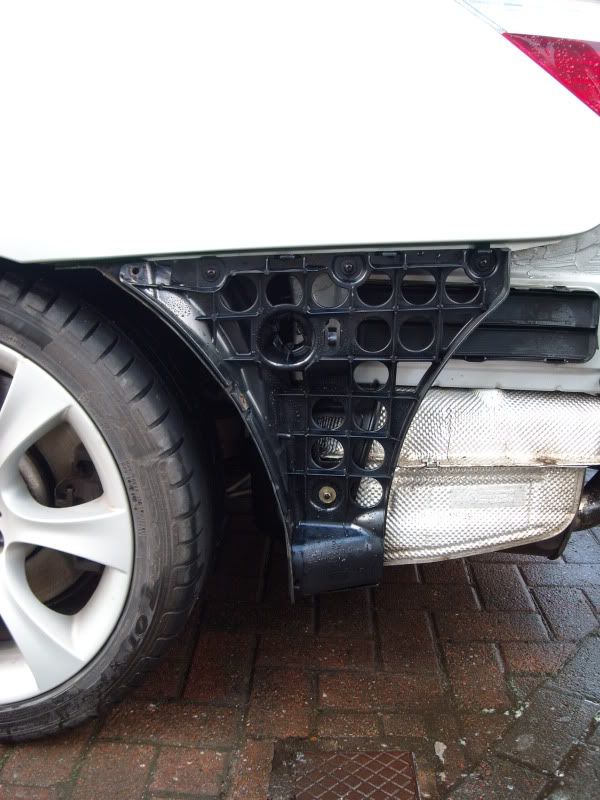 A shot that you don't see very often. The sensor in question is second from right in this photo.
Unplug sensor and then unclip sensor from within bumper and fit new one. Sensor is nothing really!
Refitting is reversal of removal. The bumper will clip into its position with very little effort.
It works!
It took me 30 mins to do this job today, but I knew what I was doing having taken the bumper of last weekend to have a look and previously when I fitted my towbar.

A new sensor OEM (SWF) was bought from Ebay for £20 inc postage, I had to paint the sensor myself, it came painted but not to my colour. I used my paint touch up stick to put two coats of my paint colour on. You can't tell from a distance but for £20 I'm more than happy.

BMW wanted £130 for a painted part. So I've saved myself over £100.

Andrew



-------------
Be exclusive and drive a Petrol 5 Series!

Current
'13 62 F10 535i MSport Auto

Previous
'04 04 E60 545i SE Auto
'03 53 E60 545i SE Auto (Stolen)
'98 S E39 523i SE Auto